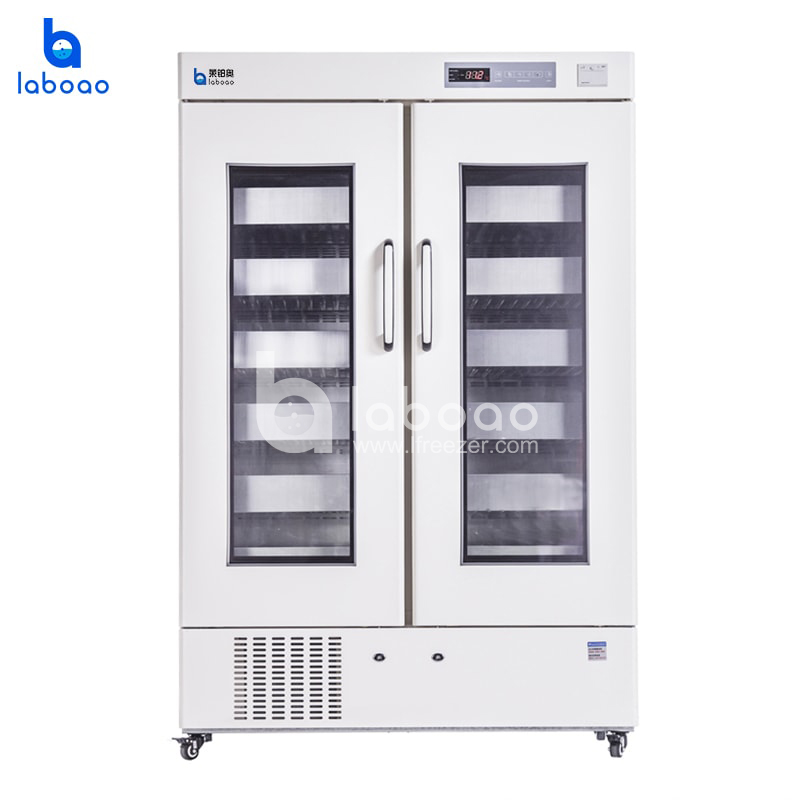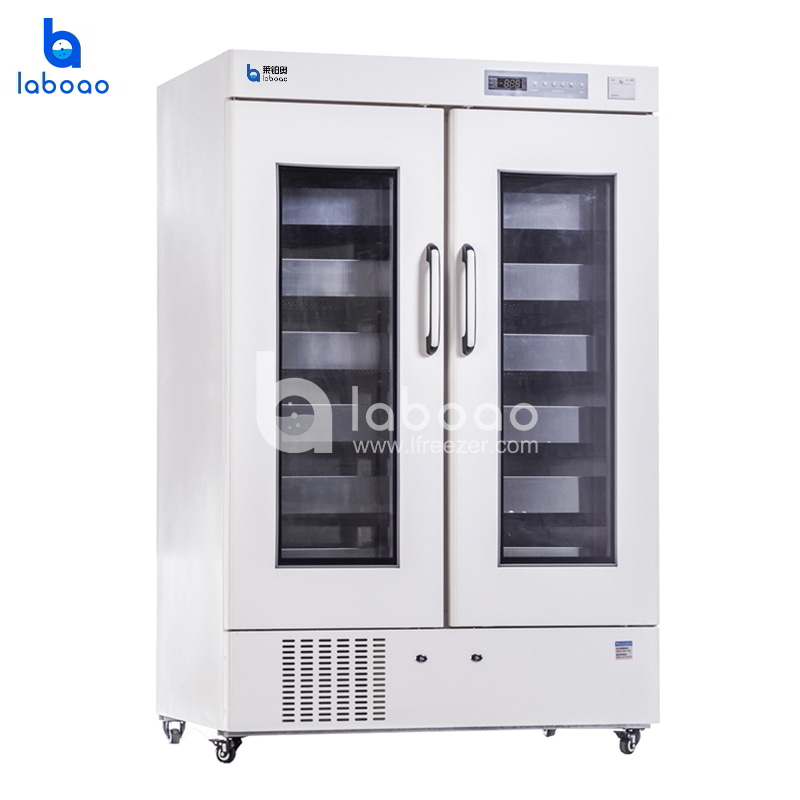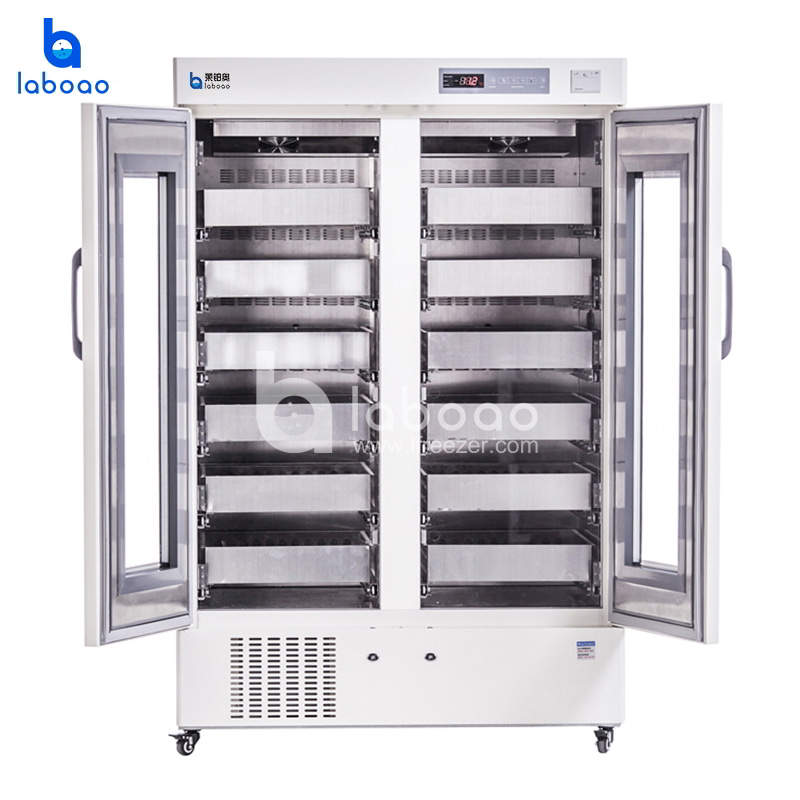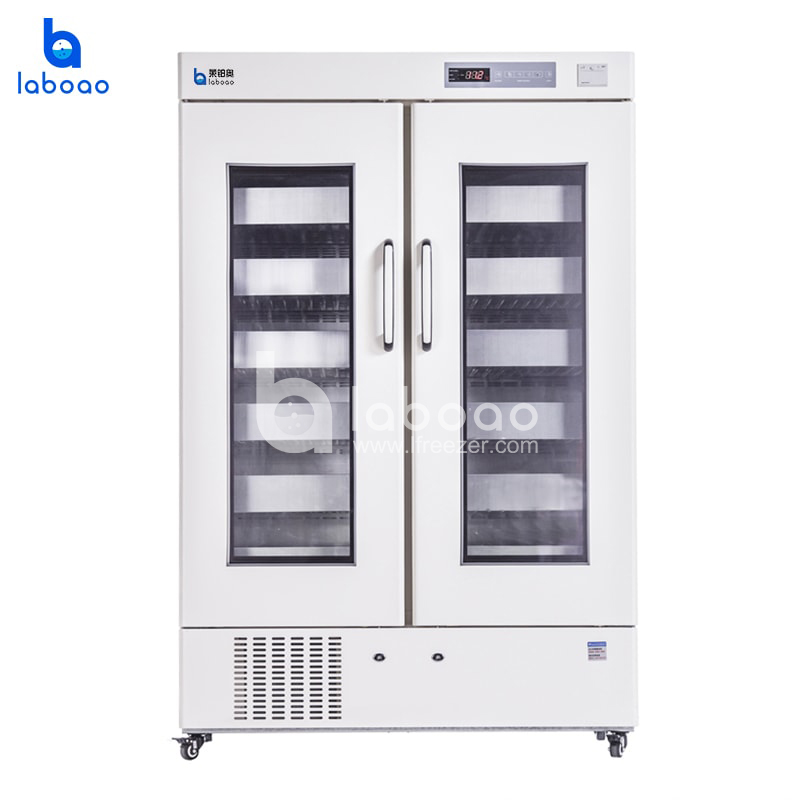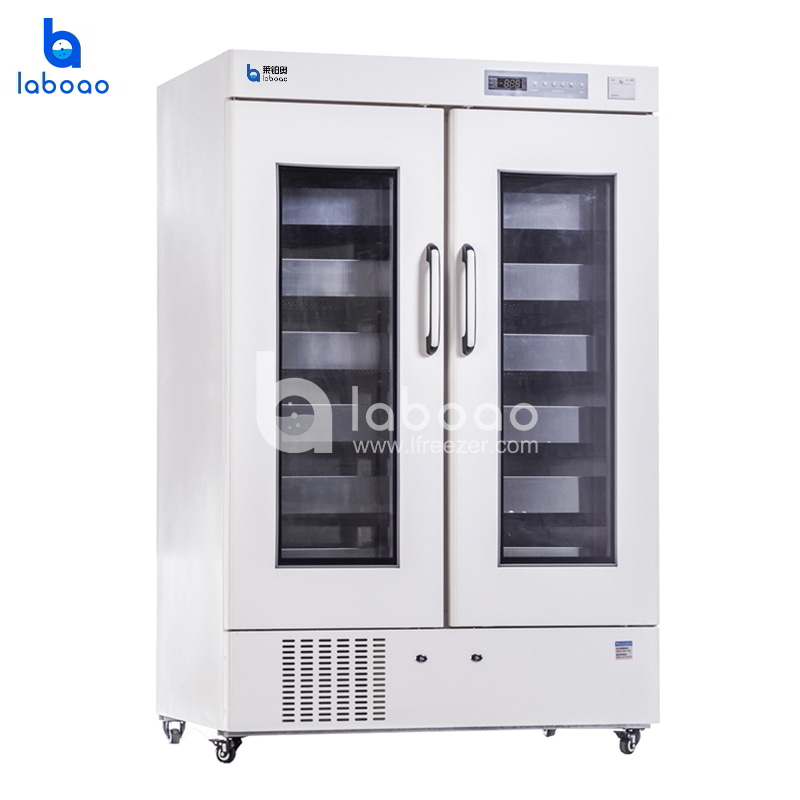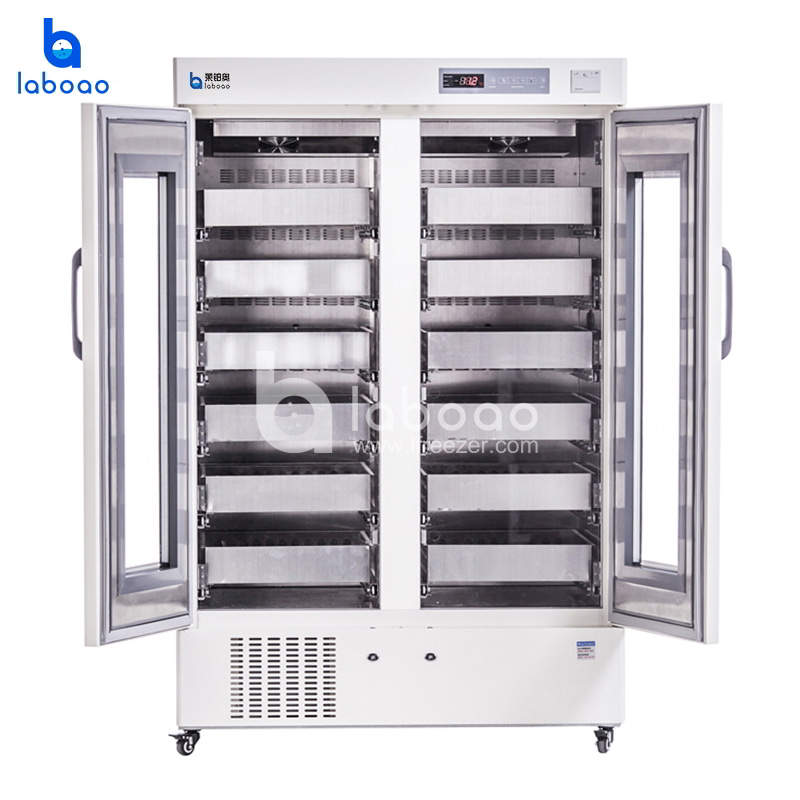 1008L 4℃ Blood Bank Refrigerator
LBC-4V1008
LABOAO offers the 1008L 4℃ blood bank refrigerator from china manufacture. It can be used to store blood and biological products, vaccines, medicines, reagents, etc. It is suitable for blood stations, medical treatment, scientific research institutes, and disease prevention and control centers.
Volume

1008L

Temperature Range

4±1℃

Power

513W

Net Weight

265kg

Interior Dimensions

1100×684×1325mm

Exterior Dimensions

1240×860×1895mm
Request Quotation
Chat Now
WhatsApp Chat

WeChat Chat
Download
VIDEO
OVERVIEW
PURPOSE
Professional refrigerator to store blood, as well as medicines and bio products
Suitable for blood banks, hospitals, CDCs
ERGONOMIC DESIGN
Safety lock to prevent unauthorized access.
Storage space designed for easy sorting of avariety of blood products.
Caster design and interior light.
RELIABILITY AND KEYFEATURES
Microprocessor controlled forced-air cooling with electrical heat compensation system.
Digital temperature display for upper and lower sections in chamber with 0.1℃ resolution.
Consistent cabinet temperature 2-6℃ High-tech integrated sensors to display and control temperature.
Auto-defrost to remove moisture on cooling surface.
Large digital display for ease of observation.
SAFETY
Build-in backup battery to display temperature and to operate audible an visual alarm systems for up to 72 hours without ac power.
Equipped with a complete temperature alarm system featuring audible buzzer and visible flashing light.
Five alarm conditions : High/low temperature, power failure, voltage abnormal, door ajar, backup battery
Standard with laser printer Standard with acrylic inner small door, for less affection on other room when one door open.
SPECIFICATIONS
Specifications

Model

LBC-4V1008

Shelf/drawer

Drawers/12

Cooling

Forced -air Cooling

Defrost

Auto

Refrigerant

R134a

Power consumption(kWh/24h)

8.53

Noise(db)

53.6 dB(A)

Ambient temperature(℃)

10~32℃

Temperature range(℃)

4±1℃

Cooling system

Compressor brand/QTY

Secop/1

Sensor

NTC

Temperature controller

Microprocessor

Display

Digital display

Power

Voltage/frequency(V/Hz)

220/50Hz

Power(W)

513W

Current(A)

2.37A

Material

Inside material

Stainless steel

Outside material

Color sprayed steel

Insulation

PURF

Size

Capacity(L/cu.ft)

1008\35.59

Blood bags(450ml)

576

NT./GT.(kg)

265/335

Exterior size(W*D*H)(mm)

1240×860×1895

Interior size(W*D*H)(mm)

1100×684×1325

Package size(W*D*H)(mm)

1325×970×2130

Alarm

High/low temperature

Y

Power off

Y

Temperature controller malfunction

Y

Backup battery malfunction

Y

Ambient temperature

10~32℃

Backup battery Alarm for power off

72h

Accessories

Caster

Y

Outer door/Type

2/Heating & Foam glass door

Inner door

6

Test hole

1/25MM

Thermal Printer

Y

Light

LED

Temperature recorder

Optional

Other

Qualifications

ISO9001,ISO13485,ISO14001
4 Good Reasons To Choose LABOAO 1008L 4℃ Blood Bank Refrigerator
Forced air cooling system keep inside temperature stable and uniform

Individual transparent inner door can be opened independently to minimize loss of cold temperature during a door opening

Exclusive patented temperature box design, reveal the real temperature of the blood in storage

Adjustable shelves, improve space utilization